A few months ago, I found out not one, but two of my colleagues were receiving training to become mental health first aiders. Which is a pretty big deal if you consider there's still a huge stigma around mental health in general, never mind at work. "1 in 6.8 people experience mental health problems in the workplace."* and "Evidence suggests that 12.7% of all sickness absence days in the UK can be attributed to mental health conditions."* Having a mental health first aider at work is a fantastic way of managing your employee's health and wellbeing. Which isn't just good for your employees, it's good for business.
It came as particularly great news to me because… *deep breath*… I live with a mental illness.
There, I said it. And man does it feel good.
I've worked at Chatter for almost two years, and this is the first time I've told anyone my secret. In fact, it's the first time I've really told anyone (other than my immediate family). The reason for that is simple;
It's always been easier for me to hide my illness than deal with the reactions of those around me.
The judgement. The pity. The blank stares and uncomfortable silences. At least, that's what I imagine I'll get when I think about telling someone. But the reality is, people are a lot more aware of mental illness now, and also a lot more understanding.
Predictably, when Ellen went for her mental health training in back in July, I was eager to find out how she got on. She described it as a jam packed couple of days, covering topics like Depression, Anxiety, Personality Disorders and Eating disorders, just to name a few. She said that whilst they only really skimmed the surface of each mental illness that was covered in the training, she came away feeling more able to support the people around her, and signpost them to the many resources available for anyone struggling with mental ill health.
But still, I wasn't sure whether to tell her about my own experiences or just keep it to myself. I thought long and hard about the consequences of my colleagues knowing. Would it benefit them to know? How would it affect my relationship with them? The last thing I've ever wanted is to be viewed or treated differently. And I've always been terrified of being labelled an 'attention-seeker'. *shudders*.
Then the answer became clear. If I'm struggling to talk about my illness, then there's a good chance some of my colleagues might be concealing their own struggles. I mean, the statistics should be enough evidence of that: "Every week, 1 in 6 adults experiences a common mental health problem, such as anxiety or depression and 1 in 5 adults has considered taking their own life at some point."* That's scary! And speaking from experience, those people are likely to be dealing with that alone.
Once I thought about it that way, it became easier to imagine myself opening up about it. Because I'm not the only person in the world carrying this burden. My mental illness isn't something I am responsible for. It's not a choice. And it's nothing to be ashamed of.
A few days after speaking to Ellen about her training, I sent her an email.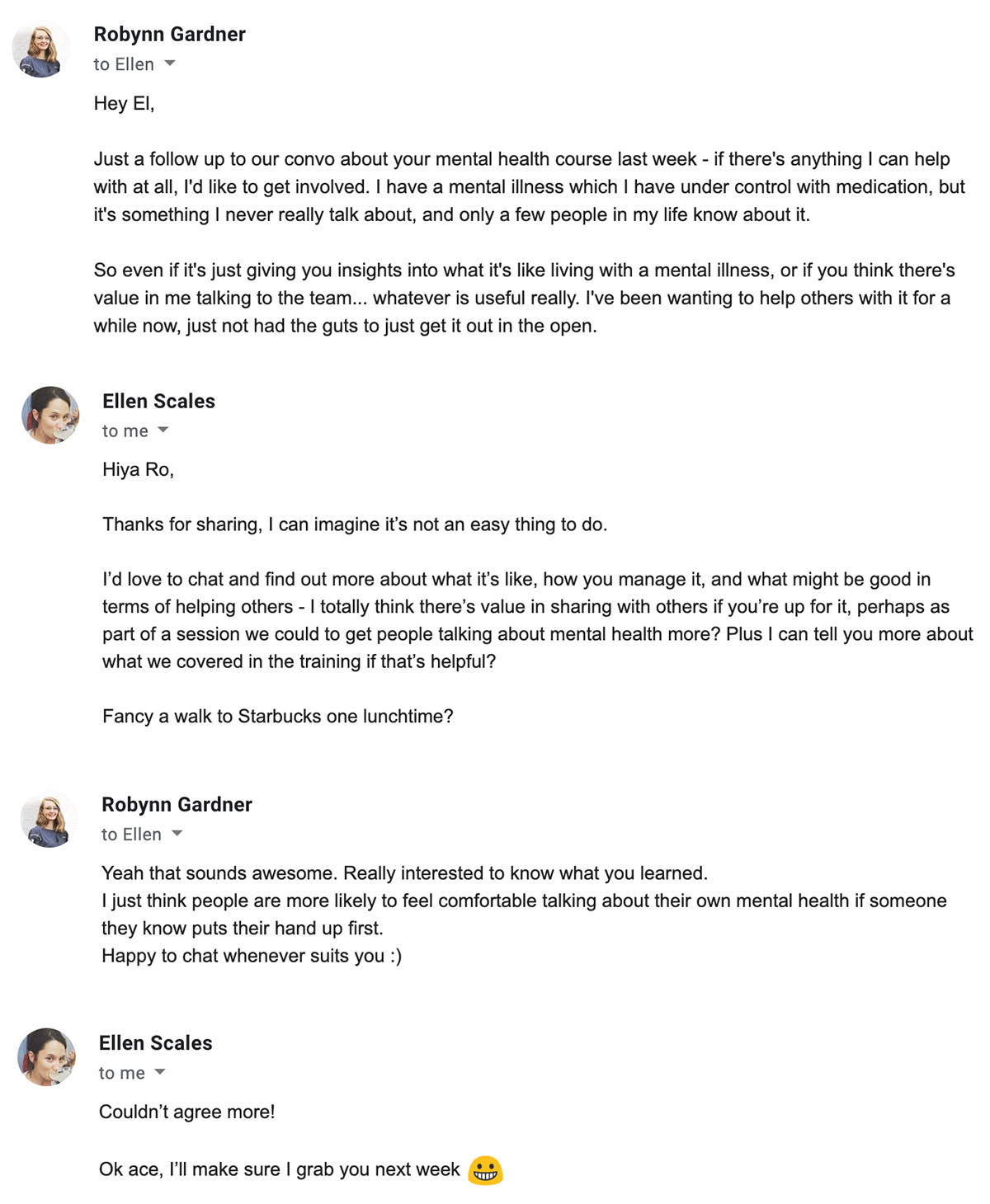 That was the first step, and it was difficult to do. But once I'd done it, I really did feel better. Finally, my secret was out there. I no longer had control over it, nor did it have control over me. And that wasn't even my motivation for telling her; it was just a nice bonus. The real reason was to make the first move in breaking down the stigma surrounding invisible illnesses. If I could hold my hands up and tell people about it, then hopefully it would encourage others to do the same. Because if I'd had more people around me sharing their struggles, I might have felt more comfortable talking about mine a long time ago. And a burden shared, truly is a burden halved.
We discussed how my experiences could help Ellen be a better mental health first aider. And we decided that by simply telling the rest of our team, it might show them they can talk to her too, should the need ever arise. Nobody should have to suffer in silence. So this World Mental Health Day, Ellen is running a session with the team to discuss her training, and I've offered to step up to host a brief Q&A, in case anyone has questions about mental health. I'm equal parts terrified and excited.
I know what it's like to feel isolated, and I hate the thought of others feeling that way too.
So, if by letting myself be vulnerable it means even one person gets the help they need, I'll be over the moon.
If you're affected by mental illness, there are plenty of resources available. I personally recommend, Samaritans because they have all sorts of ways to help, including an email address where you can speak to someone at your own pace about anything that's troubling you.
If you have any questions of your own, I'm happy to offer any advice I can.
---
*Source: https://www.mentalhealth.org.uk