We love partnering Morrisons. We love that they've been introducing initiatives like trialling paper bags, selling wonky veg to cut down on food waste and introducing a 'quieter hour' to make them more accessible to shoppers who have additional needs.
A few years back we built their original careers site and recently we've been working with the team to refresh the look and feel of it. In the time since we built the original site, the business has seen some changes - a new applicant tracking system (ATS) was introduced; recruitment processes have evolved; and Brexit and other market forces have also had an impact on their approach to recruiting. Biggest of all, they moved all of their recruitment for store-based positions from paper based in-store applications to online.
A key part of their new application process requires a CV to be uploaded. For various reasons such as English not being a first language, many candidates store, factory and warehouse roles don't have a CV that's readily available. We wanted to find a way to help these people easily create a CV for their application at Morrisons, or for any other roles they are applying to, and a chatbot seemed like the best option.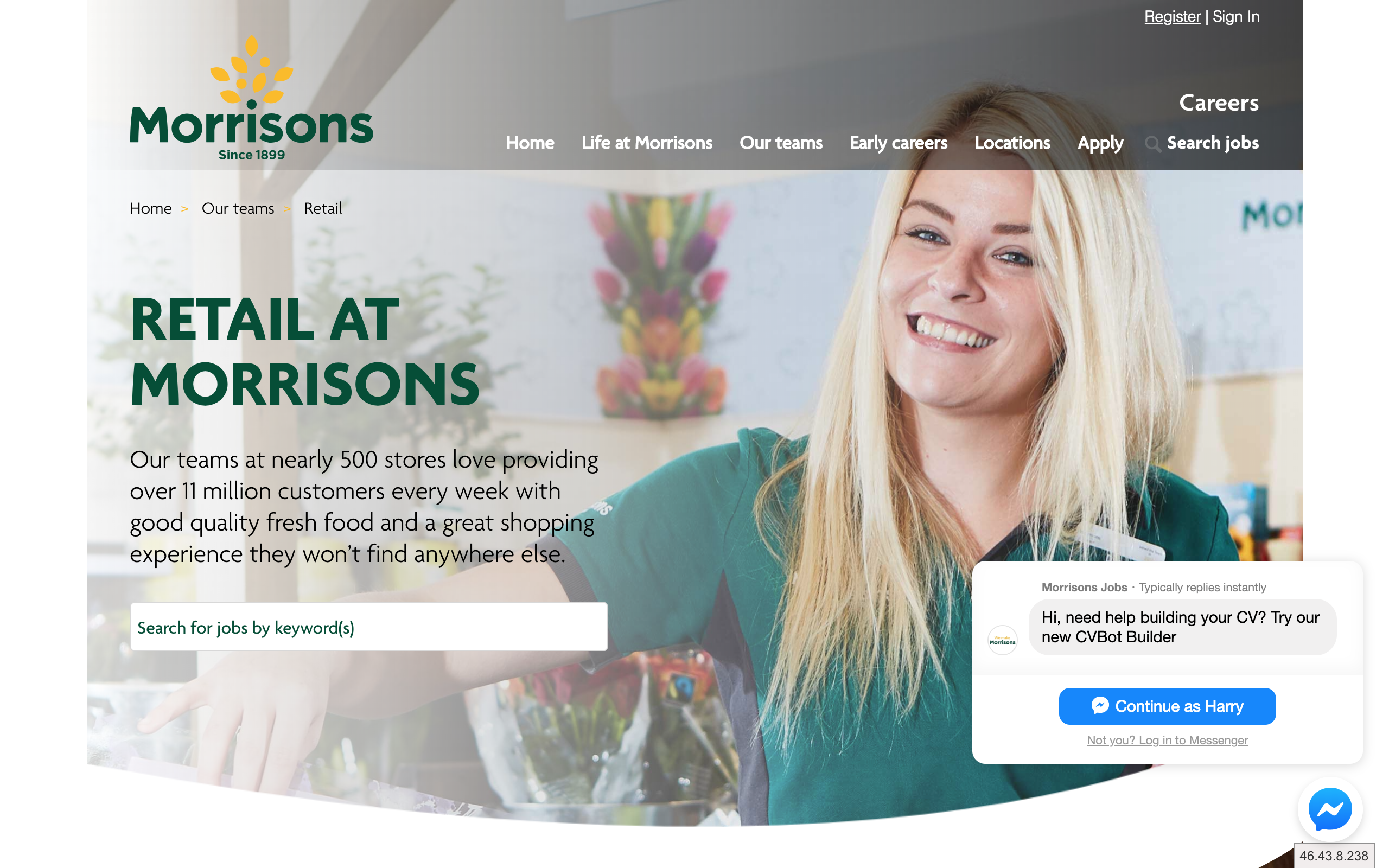 We chatted to Rick and Jon in our digital team to find out more:
What did we do to the careers site?
Rick: "There were a number of challenges with this site, which was a substantial re-design and expansion of what already existed.
"The early careers section of the website needed to be launched early, so we had to build the designs so that certain pages could follow the new design while not breaking other pages that still used the old design, until the whole website was finally launched.
"This brand design is a lot more photography led, with curve-shaped clipping and gradients that need to scale well from mobile phones to desktop browsers (and everything in between). We've built the site to do the gradients and clipping in-web-browser for flexibility and to make the people team's life easier not having to do any image-processing when adding new photos.
"There's also some really cool "Blended Search" functionality. It auto-completes job titles and other pages within the website as you type - helping guide visitors to the correct page they're looking for a lot quicker. We also quietly retarget some search terms to improve the results - so searching for 'HR' actually looks for 'People' instead, as Morrisons job titles refer to 'people' rather than 'HR' in their titles."
How does the CV builder bot work?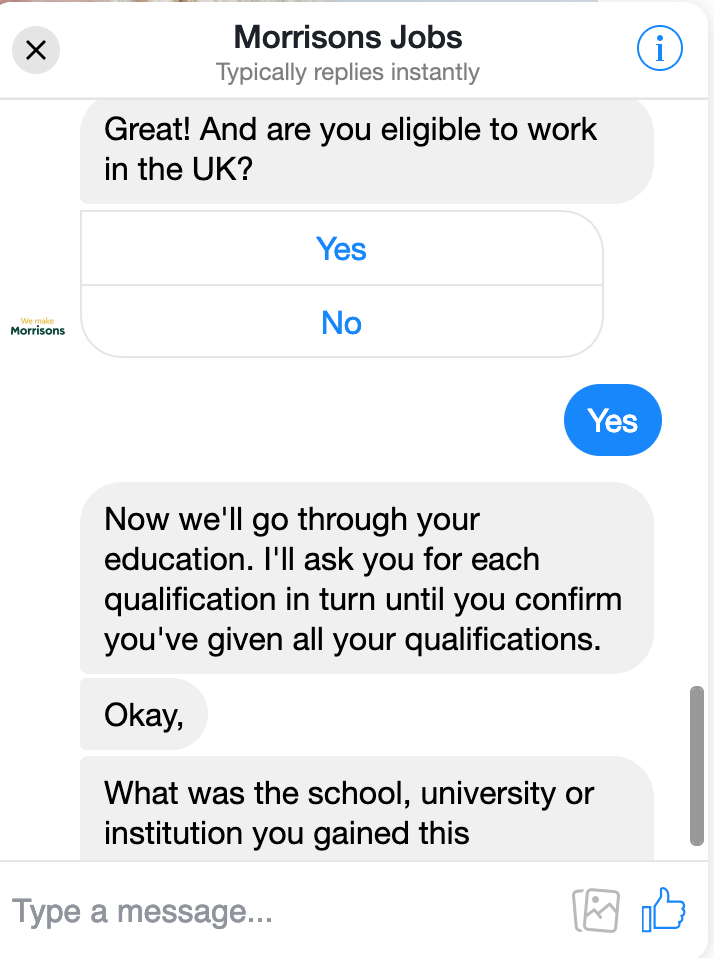 Jon: "As part of a drive to encourage social inclusion we built a Facebook-chatbot that allows you to create a professional looking CV by answering a number of questions about yourself, your education, your employment history and your interests - you don't need a word processor (or even anything other than a mobile phone) to create a professional looking PDF-based CV."
Rick: "The CV is intentionally unbranded so that candidates can also choose to use the CV for other companies they might also want to apply for. We also built a web-form based CV builder too, incase a candidate doesn't have a Facebook account or would rather type in their information with a keyboard. I've been pleasantly surprised by its success - we're getting an average of 30 people a day using it."
What makes it different to other things we've done?
Jon: "It's great to have built something with a purpose, that seems already to be proving popular with candidates. Rather than just a gimmick, it provides a genuinely useful service. I like the way it lets candidates create a CV in a simple, friendly way, just by having a chat with our CV Bot and answering a few questions. And a few moments later, a PDF CV is generated that they can download and use wherever they need to."