It's been a productive start to 2019 for everyone at the Roost, not least for our digital team who've been busy developing a range of sites.
And now we're able to share one of these projects with you as we have launched the new careers site for Oddschecker! Part of Sky Betting & Gaming, Oddschecker are the UK's number one odds comparison site, and we've loved working with such a great business.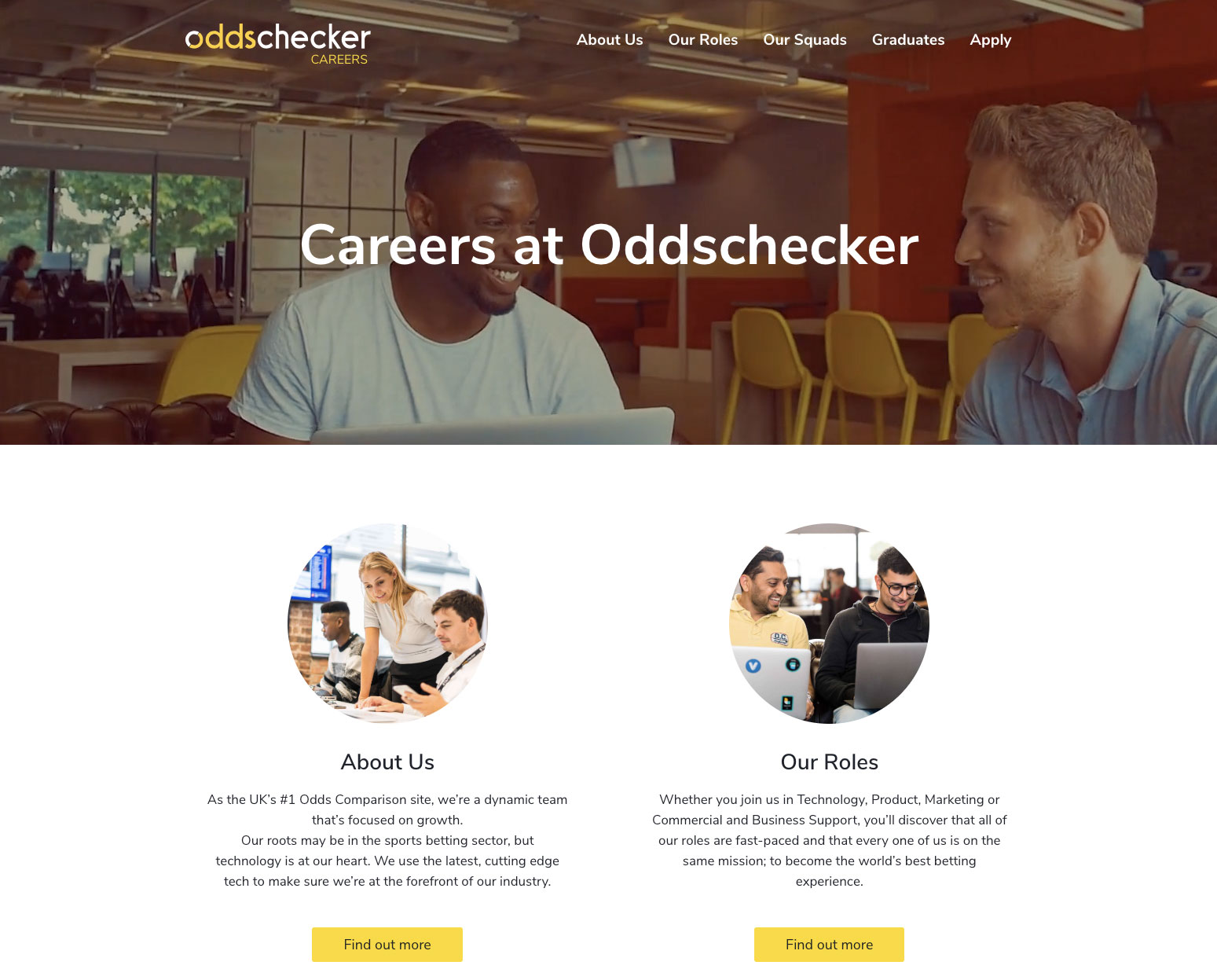 We chatted to one of our account managers, Alex, and our head of web development, Rick, to get their insight into the project and find out what it takes to get a website like this off the ground…
Tell us a bit about the background to this project and how we got involved ?
Alex: "Sky Betting & Gaming's sister company needed their own careers site. As a business they operate very independently from SBG, so the challenge when recruiting technical talent is to make their unique offer stand out in a competitive market. Their culture, make up and location is very different to SBG - for starters, they're based in Hammersmith, not Leeds! So being part of the SBG careers site wasn't right for them. They wanted to stand on their own two feet and begin to leverage the power and reputation of their name by having an on-brand look and feel to their careers site.
"And from a technical perspective, the site needed to integrate with the feed from SBG's ATS, Workday. Pulling this through while making sure there's still a great candidate experience was one of the more interesting challenges presented to us as part of the brief."
What's happening behind the scenes with the site?
Rick: "One of the challenges was that Oddschecker really wanted to be able to show the number of open roles within each Team or Squad, but the XML feed from their ATS wasn't able to break that down for us.
"So thinking outside-the-box a little, we built in the CMS the ability against each squad/team to specify a phrase to look for in the job description. That's used as an indicator that the role belongs to that role/section - they just include phrases like "Team: Tech, Squad: International" and the website does the rest. As the phrases are defined within the CMS, if they want to add/change teams/squads in the future that's no problem.
So now we can show the count of roles per section: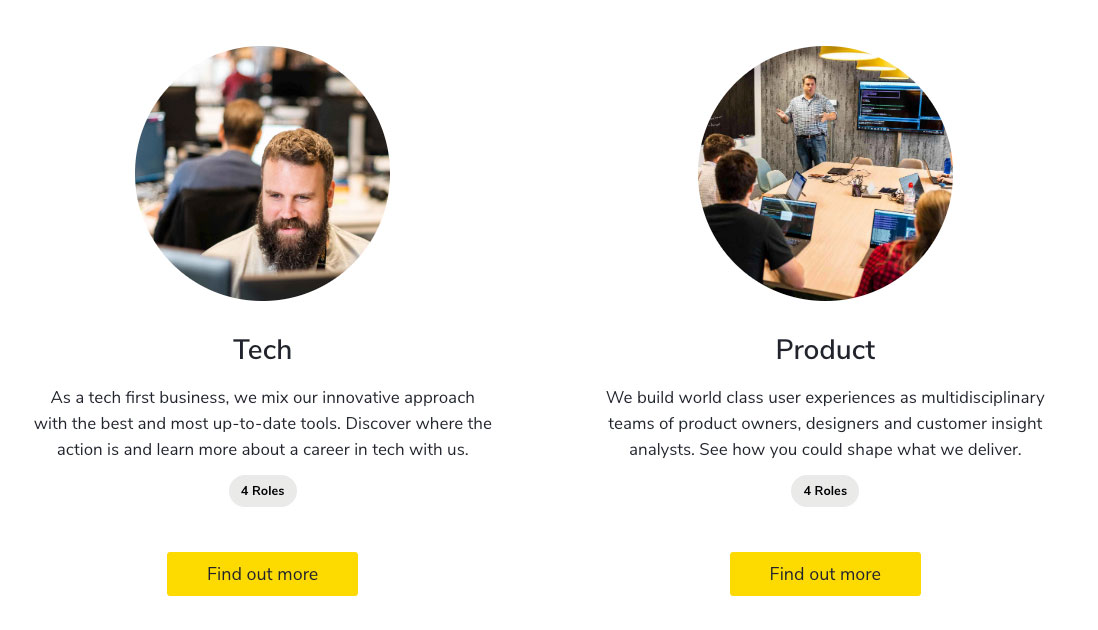 And we can also filter the jobs on those team/roles to just the jobs in that section:

All by discretely entering certain terms in the job description: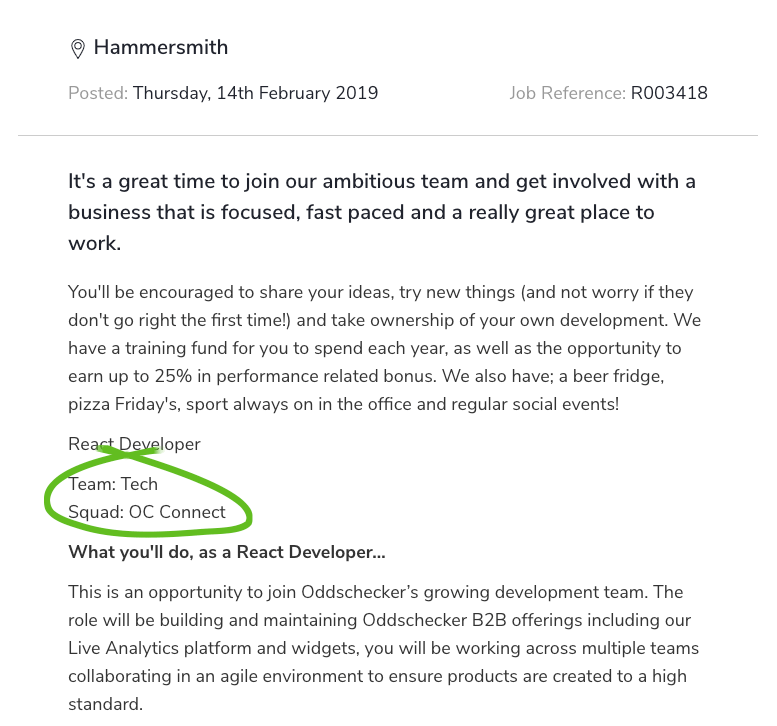 Is there anything that makes the site really stand out for you?
Alex: "The site itself is small but perfectly formed, with lots of high-quality, characterful imagery and content that we worked with the client to generate. It gives a more impactful welcome and more prominent experience of the Oddschecker offices, culture and lifestyle.
"And starting with the microsite, which we built initially because of time constraints, and then evolving it into a full site meant having to be extra thoughtful about UX design implications. It made it all a fun challenge."
Rick: "A lot of ATSs don't have a huge amount of flexibility on the design/branding of their pages once you transfer from a glossy recruitment website to the application process. To improve the candidate experience we swapped from linking through to the ATS for visitors to view the job description, to instead displaying the job description on the Oddschecker careers website (by pulling all the job details through an API), which allowed for better visual styling of it all.
"It allowed us to create more Google-friendly SEO and URLs. And we also included the hidden markup for the jobs to be automatically included into Google Jobs too, which the ATS doesn't currently do."
Cheers for the insight, chaps! If you want to see it in action then take a look at the fab new site here - https://careers.oddschecker.com/